Band Bio
Rock rolls with the changes, and at a time of losing so many of our music heroes, it's important that the sound and movement they started carries on. This statement is true in general but of significant importance to Carry-On Band. The group was originally formed after the deaths of a few musicians in their immediate community but carries on with the three remaining permanent members: Pete Sarenana, Adam Ponce, and Mark Prudeaux. These three members were awarded national recognition for outstanding and invaluable service to the community by the United States Congress on April 2nd 2011 in acknowledgment of their performances and contributions to various charitable events. They have since been joined by additional members Jesse Silgero and Ruben Reza.
The band has been releasing their debut album with producer Simon Phillips, titled No Time for Warning, spaced out one single at a time with the entire CD available at live shows only. This is definitely a band that "Carries On". It is worth mentioning that they have not forgotten where and why they started. The image of one of their lost family members is incorporated into their logo for just this purpose.
Pete Sarenana (Guitar)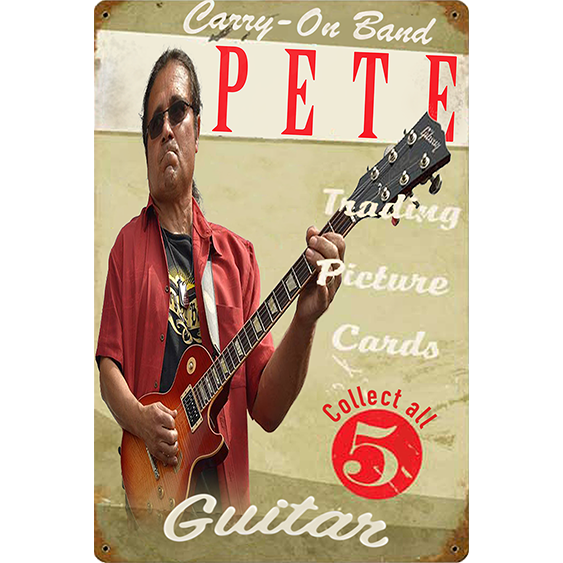 Pete Sarenana approaches guitar tone like a train approaches a tunnel.  He fills the space and everything else needs to get out of the way. Born in Van Nuys, California he made the decision in grade 3 or 4 to become a guitar player while listening to the radio. After bugging anyone who would listen, he was given an acoustic guitar from a neighbor and had to eventually learn how to tune it before tuners or the internet existed. Early in his development Pete played a lot of bluegrass gigs for banjo and fiddle contest but kept returning to electric guitar driven rock music. He and a childhood friend would push each other to progress by practicing hours a day to a click track. The 1980s confirmed a career in music when he auditioned and won a battle of the bands to attain a recurring Friday night gig at Gazzarri's on the Sunset Strip. Gazzarri's only had one dressing room and it was assigned to Pete's band those nights. It was a popular hang out even for established players. The dressing room was the only VIP area and it provided an opportunity to meet some interesting people. Saturday nights were for house parties in the San Fernando Valley with significant payouts. While there is no one guitarist at the top of his list, some that have peeked his interest are: Alex Lifeson, Michael Schenker and Randy Rhodes. But the influences often change. "I'm not trying to find someone elses sound, I'm trying to find my own while also fitting it with the other players" Pete says.
Adam Ponce (Drums)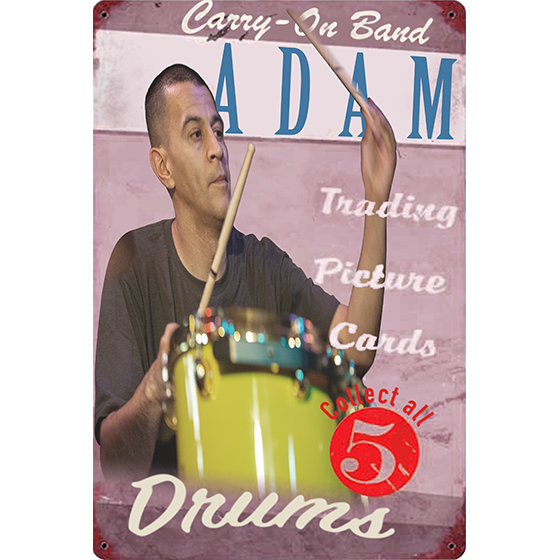 Adam Ponce plays his drum kit with the grace of a gazelle and the ferocity and precision of the cheetah chasing it. Born March 19, 1982 in Sun Valley, California, Adam began playing music with his dad at age 5. His aspiration for a career in music began early. He started playing professionally at age 13 when mom finally gave him the okay. In October of 1996 he was offered his first recording session by Lon Miller at Westlake Audio. Shortly after that, he studied music at Los Angeles College of Music. He has written and recorded 3 unreleased albums of  progressive rock and jazz compositions. Carry-On Band utilizes Adam's affinity for progressive and occasionally odd meter rhythms to construct the foundation for their songs. This project has provided the opportunity for Adam to work with his musical Idol, Simon Phillips, who produced the current project. Adam is also recording and producing various projects at his own home studio where can be available to influence his own children in music. Just like his father did for him.
Mark Prudeaux (Vocals)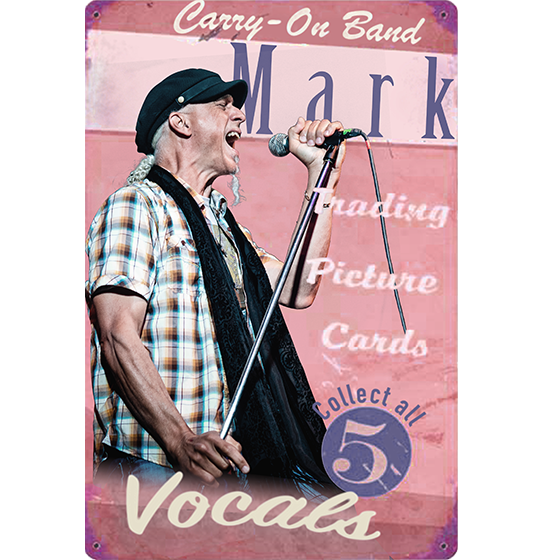 At the age of six, Mark Prudeaux had his first paid performance when he was hired by the pastor of his catholic school to sing "Silent Night" to his classmates. The gig payed 10¢. Born Oct. 26, in Paducah, Kentucky Mark moved to Pacoima, California when he was 3. His professional career as a singer continued at age 14 when a childhood friend asked him to audition for a family's Latin, Soul, and R&B cover band. After catholic school gave up on him, Mark bathed his soul in rock and roll and began writing and recording original material with various local bands. He played the circuit on the Sunset Strip, and toured the west coast. Several years later he was re-introduced to Pete Sarenana, an old school mate, and invited to join Carry-On Band. "I think our tones compliment each other well. Some notes it's hard to discern the difference between the voice and guitar", Mark says. That primal scream of voice together with guitar forms a siren's call that makes Carry-On Band's music a passionate expression that resonates the soul.
Jesse Silgero (Bass)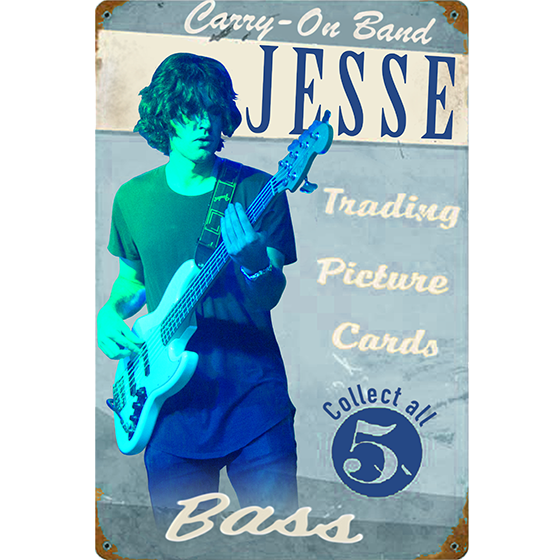 Where there's thunder there's lightning and Jesse Silgero brings them both. Not only is he fun to watch but when the thump of his bass notes come at you, you're gonna feel it. Born January 31st 1995 in Woodland Hills, he gave up a failing hobby of skateboarding for a shot as a bass player. In a talent show at school with two other kids, he had one week over spring break to get a bass and learn how to play the song, Holiday, by Green Day. It's all happening now for Jesse. He has become sought after by artist and agencies alike but found a home with Carry-On Band as it's youngest member. Recalling trying to learn Geezer Butler's solos in his teens, Jesse references that iconic bass style when working on Carry-On Band songs. Yet he is motivated to think differently about the neck of the bass by Jaco Pastorius and some newer players like Thundercat and Bubby Lewis. He believes that collaboration is the intention of music. A form of communication. Especially in this wild west Internet trend, where there is more freedom to access anything you want. If it's good it will break though if only by word of mouth. Favorite quote, " America is known for speed. Hot nasty bad ass speed.", -Elenore Roosevelt. Nah, Just kidding. "Everyone you will ever meet knows something you don't", -Bill Nye.
Ruben Reza (Guitar)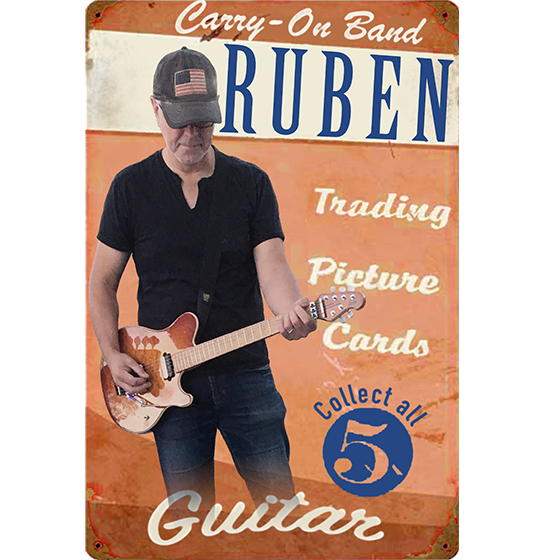 Call him the sous chef of sound. Ruben Reza has the versatility to bring the right sauce for the musical meal. With the capacity to spread out a full course, or produce a simple crudités, he always flavors the song as needed and serves it warm. A November baby in 1966 at East LA White Memorial Hospital, Ruben showed no interest in music until the summer of 1980 when a friend sold him an overpriced Les Paul copy through the seductive allure of it's shiny finish and multiple knobs. Then came AC/DC's back in Black, the first record he bought with his own money. Ruben opened the cover, saw Malcolm Young, wanted to be him, and learned all the songs on rhythm guitar. Now after practicing long, promoting hard, establishing a name locally as well as euro-fanzines, reviews, interviews and a reputation in the worship circuit where he was able to perform the colosseum in front of 63,000 fans for a church revival. Ruben joins Carry-On Band as an integral part of the band. "The kids still love that 80s rock vibe and sound. It's more organic and they can feel it in their own bodies."  He's  a valuable asset to any project and remains humble about it. Living by scripture. Proverbs 11, 2 "Pride leads to disgrace, with humility comes wisdom".